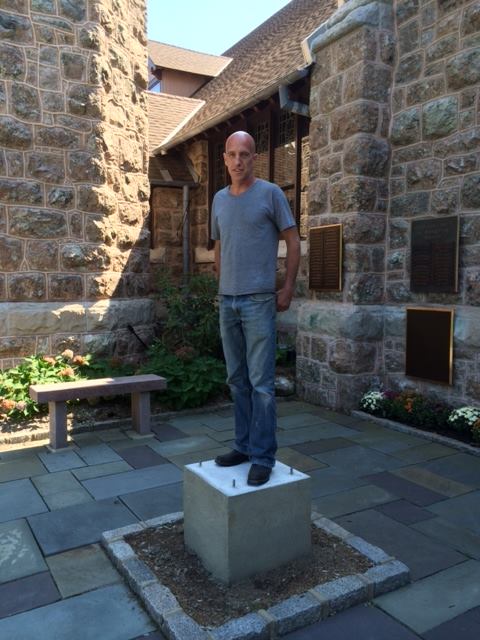 Growing up in Pennsylvania, Robert Koch's interest in art started at an early age. His grandparent's home was one block away from the studio of Henry Bertoia, and he marveled at the unique and grand bronze sculptures as they were created outside the studio.
He attended Kutztown University where he studied art education. His first and quite successful venture as an artist was born in 1986 in the summer kitchen of longtime friends Karen and Bob, who donated their space to allow Robert's creative side to take flight. Over the course of nearly 20 years, Robert created functional stoneware pottery and traveled the east coast selling work at art festivals. Though he won awards and had built a loyal following both locally and regionally, the memories of Bertoia's work often opened the eye within his imagination and compelled him toward a new path.
In 2000, he registered in a metal sculpting class at the University of the Arts in Philadelphia and knew immediately that this indeed was a calling. He converted his garage into a reasonably well-equipped sculpting studio by the end of his first semester, and continued to produce his popular functional stoneware while simultaneously developing his sculptural aesthetic. Whenever possible, he entered pieces into competitions and won awards.
It was in 2004 that he made the life-changing decision to move from rural Pennsylvania to the NYC area and transition Robert Koch Studios as an artist working solely on steel sculpture. This clear determination quickly garnered representation by prestigious galleries such as Elaine Benson Gallery in Bridgehampton, NY, Charles-Baltivic Gallery in Provincetown, MA and Broadfoot and Broadfoot formally in SoHo, NYC. Robert's list of public and corporate commissions is rapidly growing. His aesthetic goal is to emulate the fluid ebb of water and organic movement within nature to influence the design he carefully constructs into each unique piece.
Today, Robert resides at 150 Bay Street in Jersey City, NJ, with his two dogs, Maggie and Stella. "It's inspiring to live among such an amazing group of artists in JC's Powerhouse Arts District," he says. His studio is located in Jersey City Heights, and his 150 Bay Street apartment is showroom for his personal creations of sculpture and paintings, as well as artwork from friends and noted artists from around the world.
Robert's approach to sculpting is to defy the properties commonly associated with steel. He strives to take a material that is rigid, hard, and lifeless and convert it into a form that is soft and fluid. In some work the steel appears to be trapping the wind; in others, soft boundaries are created between the form and the space it occupies. The organic forms represent abstractions of nature. They are constructed by combining small sections of steel to create woven textures or made to resemble reeds or grasses.
For a complete copy of Robert's resume or to request information for your own site-specific piece, please fill out the form on the contact page.
Work is currently available at:
Broadfoot and Broadfoot
155 Project
Lost City Arts